2022 GMC Hummer EV SUV  (Coming Soon)
2022 GMC Hummer EV SUV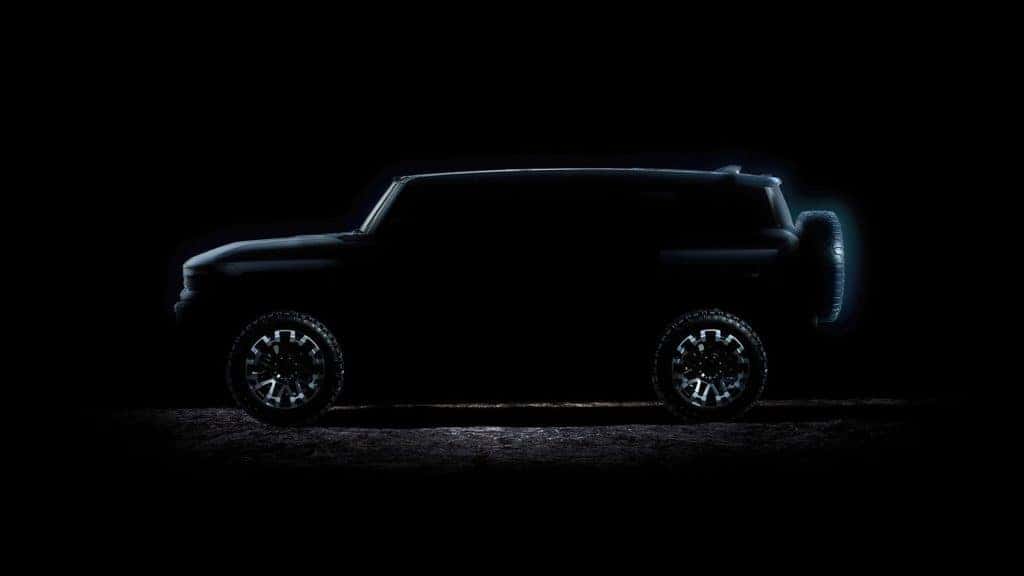 Return of an icon!
Mark your calendar! Early next month — April 3 to be exact — marks the big reveal of the GMC Hummer EV SUV, a vehicle that will not only be a fan favorite, but a game changer! Complete with an Edition 1 trim, similar to the Hummer Pick-Up, and with an impressive targeted range, this EV SUV boasts a boxier body but a look that is sure to turn heads!
Here's more….
The revival
Long gone is the reputation of being a gas guzzler or a vehicle linked to the U.S. military. Hummers, now revived under the GMC umbrella, are considered leaders among electric pickup trucks. General Motors has presented a unique vehicle, in both the pick up and the SUV, both of which boast a driving range of up to 350-400 miles on a single charge, as well as fast-charging capability and massive power outputs.
This all new Hummer EV SUV represents the return of an icon as well as a new generation of electric vehicles. This SUV will also help introduce GM's new battery and charging technology that will be featured on many upcoming EV's moving forward.
How it looks/drives
Although only some teasers have been revealed, the all new GMC Hummer EV SUV brings forth a design that takes the existing Hummer EV pickup and encloses the cargo bed to create an SUV. It will be presented with a mix of durable materials and physical controls among other boxy design elements. There will also be digital displays o the dashboard. An Infinity Roof, similar to the truck, will consist of four transparent removable roof panels.
A spacious cabin is found due to the fact that the SUV's EV platform consists of a flat floor throughout due to the battery pack being mounted underneath. A generous back seat is also presented with this model.
A full-size spare wheel attaches to the rear, and it will swing out of the way to access the hatchback. The SUV retains the thick C-pillar from the pick up version, but with a longer roof and extended bodywork above the rear fender. It shares the platform of the pickup, as well as the powertrain and basic specs. It should offer the same three-motor EV-3x and two-motor EV2x and EV 2 models.
Compared to the pick up, however, the front of the SUV will have a different lower fascia.
Inside, it is somewhat similar to the pickup, but with one main difference— it will boast increased cargo volume including the possibility of three rows of sets. Removable roof panels are also featured and are perfect for when the weather abides.
The EV SUV will come with an Edition 1 trim, similar to the Hummer pickup, and utilize the automaker's latest Ultium batteries to achieve an impressive targeted range and 1,000 horsepower of pure muscle thanks to three electric motors.
Engine/performance specs
Mechanically identical to its pickup-truck counterpart, the EV SUV is expected to offer the same set of one of two electric motors. The single unit suggests a rear-drive model, while the two- and three-motor setups indicate two different all-wheel-drive potencies.
The SUV will be rounded out with chunky 35-inch tires, an adjustable air-ride suspension, extensive underbody protection and four-wheel steering that allows it to drive diagonally or "crab" sideways. The SUV will also boast a great deal of towing power.
The Hummer EV SUV is expected to have the same 350 miles of estimated driving range as the truck version, utilizing an 800-volt architecture that allows 350-kilowatt fast-charging. Once it is plugged in, it will be able to add 100 miles of range in just 10 minutes.
Tech savvy
In the area of connectivity, the new Hummer does not disappoint. It will come equipped with cutting-edge electric technology that will be complemented by state-of-the-art infotainment features such as a large 13.4-inch touchscreen and a wide variety of connectivity options. Typical of most GMC models, the Hummer EV SUV will include Apple CarPlay, Android Auto and a subscription-based Wi-Fi hotspot as standard. Available upgrades will include a powerful Bose stereo, built-in navigation, a rear-seat infotainment system and wireless charging.
A wide array of driver-assistance technology rounds out this all-new model, including GM's Super Cruise system which provides hands-free driving through automated lane-changing assist. Also expected is standard automated emergency braking with pedestrian detection, lane-departure warning and lane-keeping assist as well as adaptive cruise control.
With a competitive limited and powertrain warranty, the edition 1 models of the Hummer EV SUV is planned for customers in 2022, followed by less powerful trims rolling out through 2024. It will debut online during the NCAA Final Four broadcast at 5 p.m. GMC hasn't said how much the hummer EV SUV will cost or what trim feels will be offered. However, we expect the lineup to align with the recently revealed pickup and cost lightly less, which should put its starting price at around 75,000.
Stay tuned and see what the return of an icon has in store! A fan favorite and a game changer, the 2022 Hummer EV SUV, representing a new generation of electric vehicles, is coming soon!!